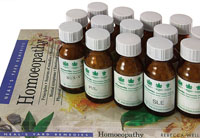 Homeopathy is a regulated profession in the province of Ontario. Homeopaths are now registered members of the College of Homeopaths in Ontario.
Homeopathy is practiced by professional homeopaths, and some naturopaths.
They must take a three- to four-year accredited training program at a homeopathic college/school. Training includes anatomy, pathology, intense advanced homeopathic studies and clinical experience.
Accredited schools often give their own designation to their graduates. In addition, homeopaths can receive a designation from a recognized Homeopathic Association after completing all their educational requirements.
Lisa Decandia, who has a family practice in Balanced Health Care in Don Mills, Ontario, is a graduate of the Canadian College of Homeopathic Medicine. Lisa also has an honours degree in science and art from York University, a Masters of Science degree, and regularly participates in specialized homeopathic training with international leaders in her field.
Lisa is a faculty member at the Canadian College of Homeopathic Medicine, teaching a broad range of homeopathic studies.
To learn more about Lisa, click here.